Skelly Dogs Training offers classes for American Kennel Club (AKC) Certification
These classes and titles are open to all dogs regardless of breed.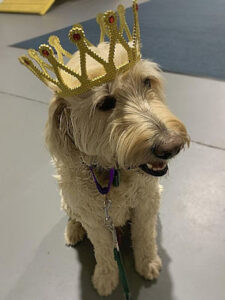 Trick Dog
Learning tricks is a fun activity for dogs and their handlers/families. Some tricks provide physical exercise while others provide mental stimulation and problem- solving skills. There are five levels from Novice to Elite Performer with ten tricks to be performed at each level.
The group class is four one-hour sessions and once the ten tricks are successfully performed paperwork is submitted for that level title.
STAR Puppy
Puppies and their handler/families attend six sessions to be eligible to take the STAR exam. This is the precursor to the Canine Good Citizen Program. This class is for fully vaccinated puppies eight months and younger.
The group class is five one-hour training sessions plus a final exam session. The twenty elements of the exam include handler responsibilities. Upon successful completion of the exam the puppy is awarded STAR status once the paperwork is submitted.
Canine Good Citizen
This program is recognized as the gold standard for training and behavior leading to a well-behaved member of the family. Dogs passing all ten elements of the exam can receive an official AKC CGC title.
Canine Good Citizen Community
This is the advanced level of the CGC program. The focus is training to be a well-trained polite member of society both at home and out and about in the community. Dogs passing all ten elements of the exam can receive an official AKC CGCC title.
Canine Good Citizen Urban
This is the third level of the CGC program. Dogs are required to demonstrate CGC skills in a community setting with city distractions present. This is a public access test requiring well-behaved and well-trained dogs. Dogs passing all ten elements of the public exam can receive an official AKC CGCU title